Our service center in Lahti has a diverse selection of materials, of which only the most popular ones are mentioned on this page. Please consult with our customer service to find just the right material for your needs.
We are partners with BASF in developing 3D printing materials, which is the focus along with developing printing profiles in our office at Hernesaari.
ABS-M30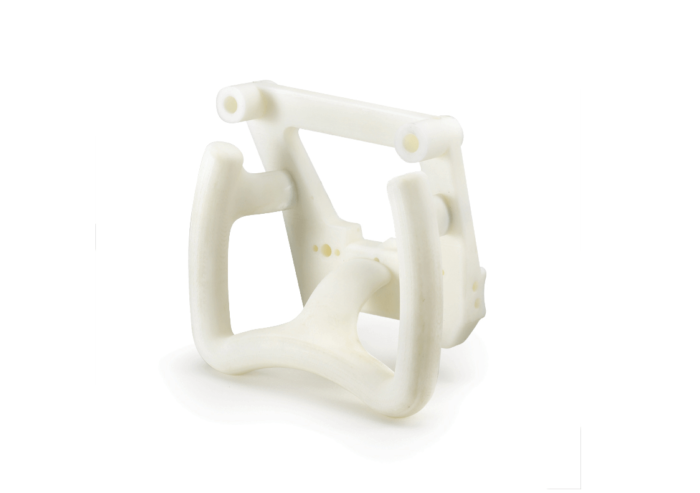 + Tough, multi-purpose, creep resistant, and resilient thermoplastic
+ Suits for most 3D printing use cases, such as models, functional and technical prototypes, jigs or clamps, and end-use products.
+ Layer thickness: 0.127–0.33mm
+ Colors in stock: black, white, off-white, red, blue, and gray (custom colors available for larger production batches)
Why choose ABS-M30?
ABS-M30 is a durable yet resilient material that suits for most general-purpose 3D printing cases and features different layer thicknesses to choose from. It is also easy to glue, sand, and finish.
PC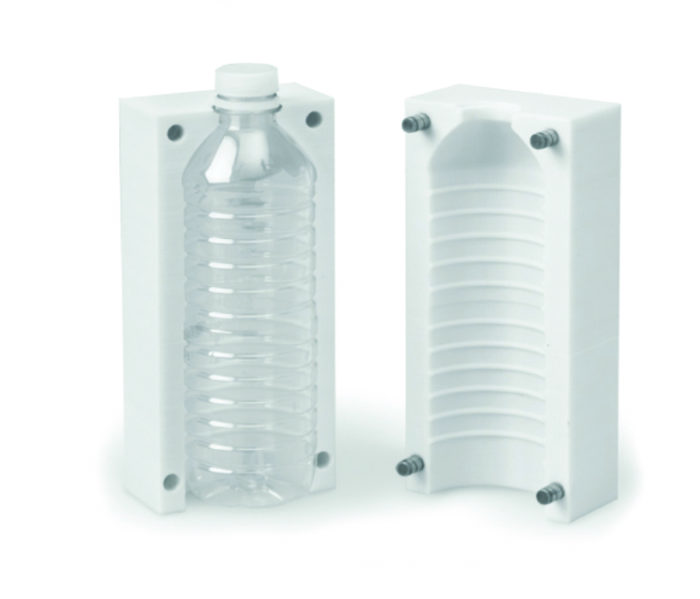 + Strong, impact resistant and creep resistant thermoplastic
+ Suits for most uses similarly to ABS its properties are at their best in jigs, clamps, and end products
+ Layer thickness: 0.127–0.33mm
+ White material
Why choose PC?
PC is the gold standard when it comes to impact resistance and strength; a multi-purpose thermoplastic often viable replacement for aluminum. Recommended maximum service temperature 120°C (250°F).
ULTEM 9085 (POLYEETTERI-IMIDI, PEI)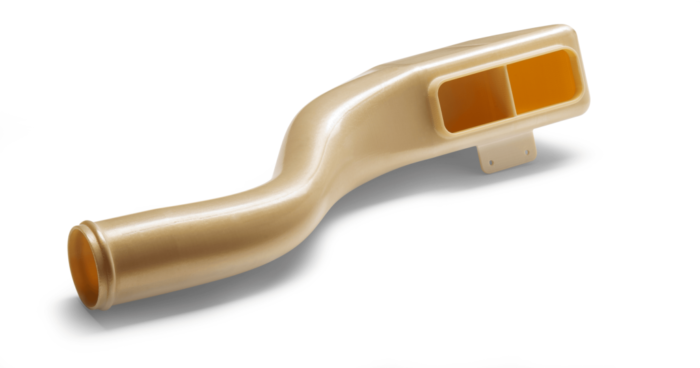 + High-performance thermoplastic that is flame-retardant and has high strength-to-weight ratio, excellent heat resistance, and high impact strength
+ Possesses favorable flame, smoke and toxicity (FST) characteristics
+ Used for applications requiring high tensile strength, simultaneous heat and creep resistance, or high solidity, such as jigs and clamps.
+ Layer thickness: 0.254mm
+ Available colors: beige and black
Why choose ULTEM?
ULTEM is the choice when the material needs to be extremely durable or heat resistant. Due to its heat resistance, it's the most popular type of plastic used in aircrafts and public transportation. ULTEM's service temperature is up to 150°C (300°F).
DURAFORM PROX (PA12)
+ Durable polyamide parts
+ Cost-efficient and fast manufacturing method
+ Excellent mechanical properties
+ Good surface quality and detail fabrication
+ Great fit for end-product
Why choose Duraform ProX?
When it comes to producing durable functional prototypes with superior mechanical properties, DuraForm ProX PA Plastic is the top choice. It also suits well for series production due to its fast and cost efficient manufacturing.
VISIJET M3 CRYSTAL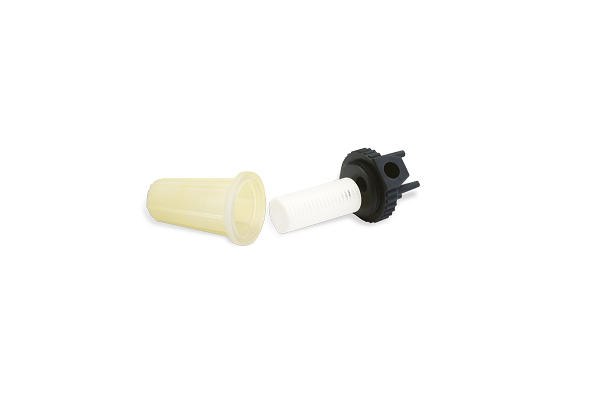 + Excellent surface quality and precision
+ For fine details
+ The properties and appearance of this white colored material resemble those of ABS
+ Ideal for use in prototypes, miniature models, and medical applications
+ USP Class VI certified
+ Layer thickness: 0.016–0.032mm
Why choose VisiJet?
VisiJet is the best pick for small parts, parts with a lot of small details, or parts that require excellent surface quality.
VISIJET PXL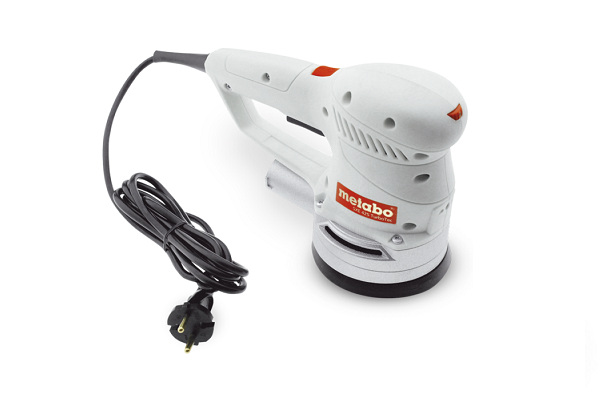 + Good resolution
+ White prints as white
+ Excellent color printing "full-color printing"
+ Cost-efficient
+ Layer thickness: 0.1mm
Why choose VisiJet PXL?
Colored demonstration models, models for trade fairs, and miniature models call for VisiJet PXL.
DIGITAALI -materiaalit (2K)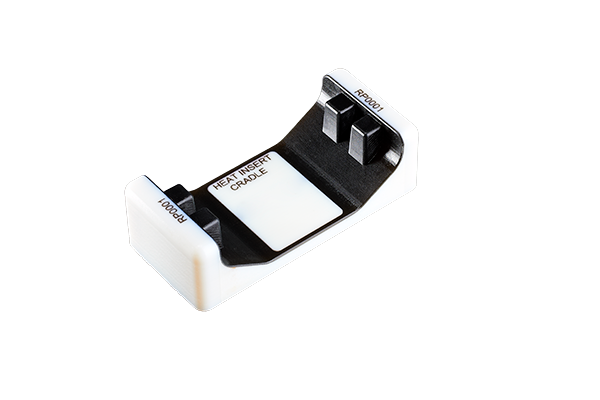 + Connex system can combine two materials to create over a hundred different digital materials.
+ Digital materials allow for adjusting 3D printed parts' stiffness Soft and stiff materials can be printed onto the same part concurrently.
+ Elastomers have seven different setting for hardness as measured in Shore A Hardness scale ranging from 27 to 95.
+ Available colors include shades of white, blue, grey, and black
+ Layer thickness: 0.03mm
Why choose Digital material?
With over a hundred different materials to choose from, we can help picking the right material or materials based on what you need.
DIGITAL ABS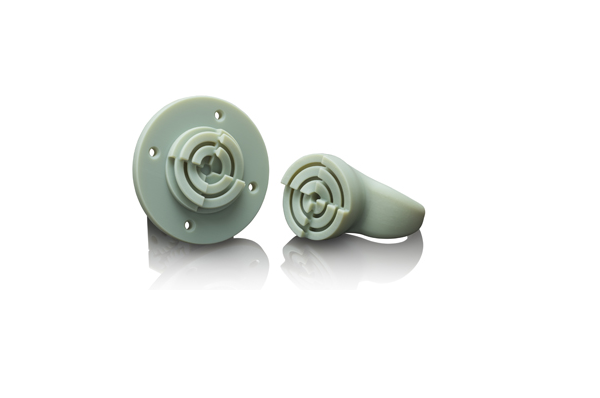 + Digital ABS is a digital material with properties similar to that of the ABS thermoplastic.
+ Material is somewhat flexible, durable, and has relatively high heat resistance
+ Layer thickness: 0.03mm
+ Stock material; color: off-white
Why choose Digital ABS?
When the situation calls for high surface quality and ABS's properties, Digital ABS does the trick.
DURUSWHITE / ENDUR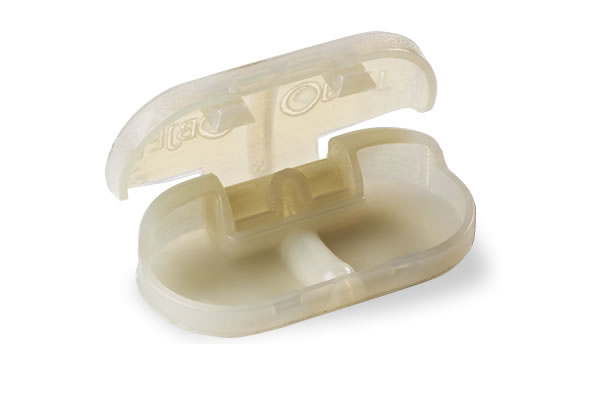 + Similar to polypropylene, this material is somewhat flexible, translucent, and yellowish in color.
+ Simulates polypropylene
+ Layer thickness: 0.016–0.03mm
+ Stock color: white
Why choose DURUSWHITE/ ENDUR?
Similar to polypropylene, this material is somewhat flexible, translucent, and yellowish in color.
VERO FAMILY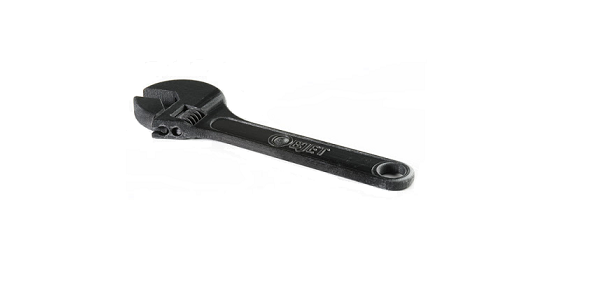 + Tough acrylic material that's available as transparent, among others
+ Layer thickness: 0.016–0.03mm
+ Available colors: black, white, and clear
Why choose VERO?
Vero materials ensure durable models with excellent detail visualization. Mixing primary colors enables printing different shades of colors and adjusting materials' solidity.
HIGH TEMP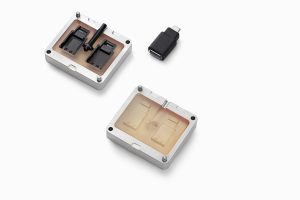 + Heat resistant material 289°C (550 °C)
+ Tough, yellowish, and transparent
+ Layer thickness: 0.05–0.01mm
Why choose High Temp?
One of the most heat resistant materials on the market, High Temp is developed for businesses that serial produce plastic by traditional means. It has been proven to be suitable for the process, and can be used, for instance, as inserts in die casting. Product innovations are awaiting.
SLA MEDICAL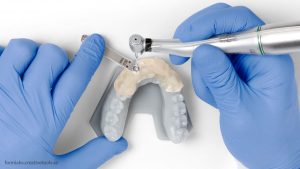 + Medical-grade biocompatible material in compliance with FDA Class I exempt classification
+ Layer thickness: 0.05–0.1mm
+ Autoclavable
Why choose SLA Medical?
Our manufacturing methods enable us to produce medical tools. In SLA, the laser beam moves with extreme precision and thus enables producing tools for environments demanding exceptional precision. For example, our most popular product in the corresponding segment is a surgical guide used during dental implant surgery.
Figure 4 PRO-BLK 10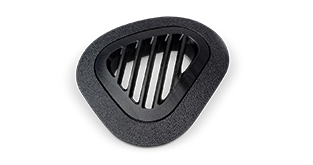 + Good surface quality, UV resistant, and durable as well as strong material
+ Layer thickness: 0.02–0.1mm
+ Good for end-product and making prototypes quickly
+ Black material
Why Choose PRO-BLK 10?
The PRO-BLK 10 material is a high precision resin and capable of true digital production of plastic parts. The freshly manufactured parts' surface quality is comparable to what is achieved with injection moulding. In addition, the material is UV resistant, durable, and strong. The best solution for end-product when surface quality is the most important requirement.
TPU95A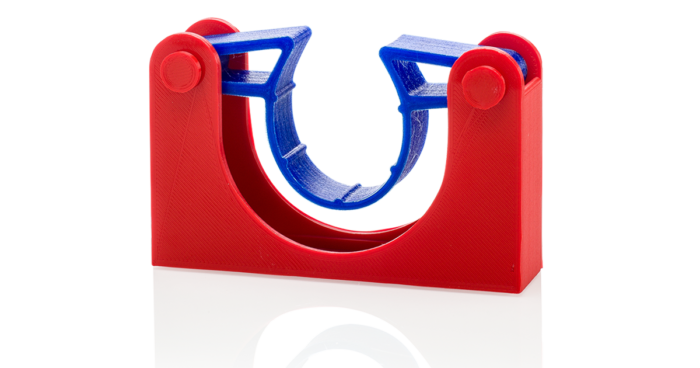 + Exceptional wear and tear resistance and high impact strength
+ Layer thickness: 0.1–0.2mm
+ Shore-A hardness of 95
+ Good corrosion resistance to many common industrial oils and chemicals
+ Colors: white, black, red, and blue
Why choose TPU95A?
TPU 95A (Thermoplastic Polyurethane) is a semi-flexible and chemical resistant filament with strong layer bonding. It is developed for manufacturing projects that demand the qualities of both rubber and plastic.
ABS-ESD 7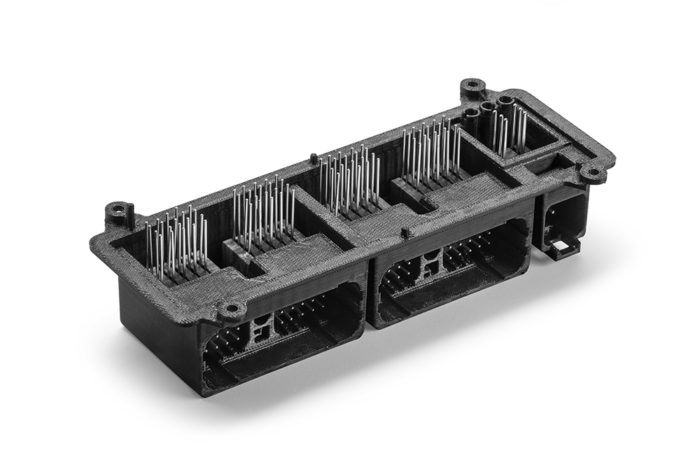 + Prevents a buildup of static electricity
+ Used for tools in electronics industry
+ Layer thickness: 0.254mm
+ Black material
Why choose ABS-ESD7?
ABS-ESD7 material is an ABS thermoplastic with static dissipative properties. It is typically used in tools in the electronics industry, where ESD protection is a necessity.
rPET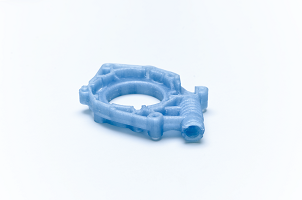 + Made from recycled PET
+ Layer thickness: 0.1mm-0.4mm
+ Durable and good tensile strength
+ Natural transparent blueish color
Why choose rPET?
rPET, made from recycled PET, is an ecological choice and supports the idea of circular economy. Main advantages of this material are its tensile strength and having been food certified. Choosing this material gives your products an environment-friendly background. Please contact our sales department for more information about ecological values.
PVDF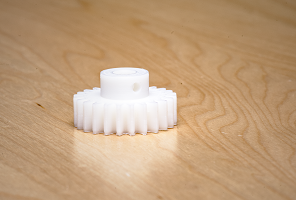 PVDF
+ Better resistance to solvents and acids than almost any other 3D printing material
+ Service temperature: -30 – 150 °C
+ Very low coefficient of friction, high strength, and UV resistant
+ Meets the UL 94 V-0 flammability standards as well as USP Class IV criteria
Why choose PVDF?
PVDF is most commonly used in applications that call for its exceptional resistance to chemicals such as acids and solvents. Combined with low friction, the material can be used in oil lines, for example. The chemical properties of PVDF have made it an alternative for parts made from titanium.
Duraform GF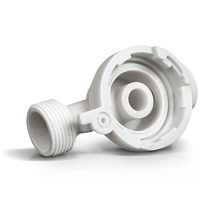 + A glass filled polyamide plastic laser sintering material
+ Glass provides maximum stiffness
+ High heat resistance
+ Popular for end-use parts
Why choose Duraform GF?
Materiaalia käytetään pääasiassa lopputuotevalmistukseen kun halytaan jäykempää ja parempaa lämmönsietoa kuin polyamidilla. Myös työkalut ja prototyypit ovat suosittuja valmistuskohteita.
BASF Ultrasint TPU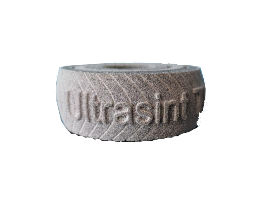 + Ultrasint TPU is a strong elastomer from BASF
+ Creates objects layer by layer with powder-bed technology + Layer thickness: 0.1mm
+ Shore A Hardness scale: 90
+ Color: stone-grey
Why Choose BASF Ultrasint TPU?
Ultrasint TPU from BASF is one of the most popular elastomers on the 3D printing market. It's strong, extremely durable, has high thermal stability, and the excellent surface quality and level of detail allow manufacturing end-use products.
ABS-M30i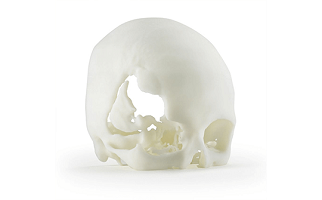 + ABS-M30i is a biocompatible material capable of sterilization
+ Durable, multi-purpose, nondeforming, and flexible thermoplastic
+ Layer thickness: 0.127–0.33mm
+ Color: Ivory
Why choose ABS-M30i?
ABS-M30i is biocompatible material well suited for use in surgical prototypes, sterile tools and fixtures, and in uses where the product comes in contact with skin, food, or pharmaceuticals. It can be gamma or EtO sterilized and complies with the test requirements of ISO 10993 and USP Class VI.
Figure 4 MED-WHT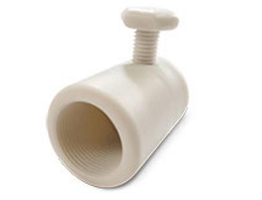 FIGURE 4 MED-WHT
+ Meets the ISO 10993-5 and -10 standards for biocompatibility + Can be sterilized by autoclave
+ Good surface quality, UV stable, and durable as well as strong material
+ Layer thickness: 0.02–0.1mm
+ Color: white
Why choose MED-WHT?
MED-WHT was developed for a range of medical applications, including when sterilization, thermal or water resistance, or biocompatibility is required, such as surgical tools and guides and skeleton models.